Is social media smarter than a doctor?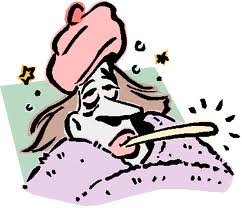 In my earlier post I indicated to those of you still around that the reason for my extended absence started out as a two-week holiday from writing and ended up being two months of insanity. I will detail all of it in an upcoming post but here I want to deal with a personal health issue that greatly contributed to my absence.
I'm trying an experiment here: crowdsourcing a diagnosis. My doctor and experts have not been able to diagnose what is wrong with me in all ten years of this illness. I think you guys can do better.
Are there others out there with similar symptoms, were you correctly diagnosed, was there a treatment, are you cured, managing, etc.?
After so many years suffering with this, I sit here staring at the blank screen below my last sentence, powerless to know where to begin.
Ringing in my right ear always precedes what I will call an "attack." What causes the attacks? Herein lies the mystery. Some days I'm back to my theory that the ringing in my right ear is the sign of an infection of some kind in my ear canal, inner ear and/or Eustachian tube. Other days, after eating something with soy oil, or a piece of pumpkin pie, or almost any other kind of food, I will notice a faint humming in my ear. Sometimes it will happen when I have eaten 'safe' foods for weeks. Recently when I was about to come back to oddbloke.ca, for dessert on a Sunday we had a dairy-free/soy-free pumpkin pie my wife Erin made. It was very good and I felt very good too. As the week progressed I was feeling what I will call my "best" since this entire nightmare started. The following Sunday we decided to have pumpkin pie again. The next day a serious "attack" started and as I write these words I've been sick for weeks.
This apparent variance makes me doubt that my illness is caused by food at all. There are things that do consistently make me sick: whole wheat breads, most nuts, milk, soy, chocolate, green tea, canola oil, oats, corn, celery, greasy foods.  Then there are things that we think are okay, but can never be sure of: white bread, eggs, sweet potato, gourd vegetables, cheese, beef, anything excessively greasy…
Regardless of the cause of an attack, if it ends up being a serious one, I experience the following progression of symptoms:
The humming in my ear will get louder and my ear will get sore. I will often sweat profusely at the beginning of a bad attack and it can continue for days and sometimes weeks. I will sweat mostly from the armpits, soaking my shirts to my waist. It is not uncommon for me to go through several shirts in the course of a day.
On these days I'm very cold even in a room that is 30C. Throughout this time my stomach will be very upset and no matter what I eat I will have diarrhea. As the attack progresses my thinking become incapacitated, with an inability to concentrate and feelings of agitation (could be just because I feel like a bag of s%$t.) I will also often have blurred vision and dizziness. Interestingly when the attack is prolonged for more than a week, the skin above my eyes becomes very dry and itchy.
Other notes:
I have a lot of inner ear scarring from repeated ear infections in babyhood – my right eardrum is always deflated (they tried a tube to no avail).
I was always healthy, but have never been truly well since moving from the prairies to BC when I was 27 (I'm 44 now). As a kid I would always have an asthma attack when my family holidayed in BC..
The health problems started being serious after I ate a bad slice of pizza. I had a severe  case of food poisoning and was disoriented and dizzy for 6 months afterwards. After that my digestion never seemed right and I had a lot of stomach pain. There followed a series of infections and health issues over the next twelve years: epididymitis, prostatitis, sinus infections, gallstones (gallbladder removed in 2009), developed allergies to my cats, and now, recurring ear infections, or so it seems, except that the ENT always tells me there's no sign of any infection.
We have thought of candida, leaky gut syndrome, irritable bowel syndrome, environmental allergies, some kind of superbug or virus that's entrenched in my system….we just don't know.
So – what the hell is wrong with me?
I'm begging you on my knees to share this as much as possible. If I could connect with people who have experienced the same symptoms maybe I could find a solution and get my life back again. Thanks in advance for your generosity.
That's it for now. Now to get back to the meat and potatoes of oddbloke.ca
Cheers,
Rod